So crisp. So fresh.
Now more than ever, customers want the convenience of buying an assortment of healthy, fiber-rich, garden-fresh produce to feed instantly to their families. What used to be a marginal trend is now a wide-spread and growing purchase pattern. Fortunately, we've perfected the packaging for fresh produce. Whether it's bagged blends, ready-to-serve side dishes, or on-the-go snack slices, our flexible films feature exceptional performance, even in temperate climates where long shelf life is difficult to achieve.
Fresh and Safe Food
At the supermarket, customers examine fresh produce almost more than any other food looking for signs of browning, limpness or deterioration. Our films present fresh produce at their best while maintaining quality and Day One freshness.
A Fresh Attitude, Too
Are you developing a new line of salad or pre-cuts? Looking for innovative ways to keep it garden-fresh and stand out on the shelf? You focus on the food and we'll come up with the next-generation packaging for it.
For Easy Enjoyment
Nutritious fruits and vegetables are easy to enjoy when pre-sliced or offered together with a simple, yet tasty recipe printed on the package. Our highly printable packaging adds value to your delicious food product by making your customer's life easier!
A range of lightweight lidding films that maintains fresh produce quality and day-fresh texture, color and flavor. Presents produce to their best advantage
High performance flexible film ensure excellent performance with VFFS and HFFS packaging machines. Ideal for fresh salad mixtures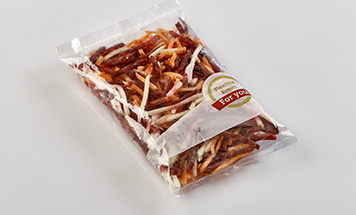 Ready-made pouches ideal for maintaining Day One freshness of salads mixtures and produce
HOW ARE WE FLEXIBLE FOR YOU?
PERFECT FIT
Our products are tailor-made for your products and needs.
CUTTING-EDGE IDEAS
Our passionate R&D professionals anticipate and solve problems by combining 50 years of experience with new technologies.
WHATEVER YOUR NEEDS
Our customer support team is dedicated to you and ready to listen.
FROM EXTRUSION TO CONVERSION
Our state-of-the-art facility is capable of handling your biggest challenges.
CONTACT US
Are you interested in learning more about our chilled food flexible packaging solutions? We're waiting to hear from you!
EUROPE

Plastopil BV
De Steiger 46
1351 AC Almere
The Netherlands
Tel: +31 36 767 1000
Fax:+31 36 540 4800
ISRAEL

Plastopil Hazorea
Company Ltd.
Hazorea 3658100
Israel
Tel: +972 4 959 8800
Fax:+972 4 989 4250
NORTH AMERICA
Plastopil Inc.
400, Frenchtown Road
Unit B
East Greenwich
RI 02818
Po Box 1928
East Greenwich
Ri 02818
Tel: 401 642 8444